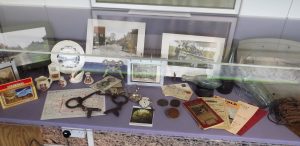 The Museum4Watton group, which is working towards opening a museum in the town, took the opportunity of unveiling it's new pop up museum exhibition trailer at the town firework display on Saturday evening. An enormous turnout of local people ensured that they were able to show some of the historical artefacts they already have to a very wide audience.
The trailer, an ex army recruiting unit, has been generously loaned to the group with the intention that they will purchase it when they have raised the £5000 needed. Although conversion to a pop-up museum is still under way the group felt that the opportunity to be present at the Firew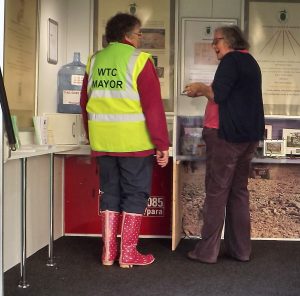 ork display was too good to miss. They also raised a healthy amount for their funds with their 'spin to win' wheel.
It is hoped that it may be possible to open a permanent museum in the first half of 2017 when such items can be displayed and available for research in a controlled environment. Negotiations regarding the lease of part of Wayland Hall in the heart of Watton are currently taking place. The Mayor and several members of the Town Council, as well as many members of the public showed great interest in the exhibition during the evening.
MUSEUM 4 WATTON GROUP UNVEILS NEW "POP-UP" MUSEUM