On Thursday June 23rd the  latest exhibit acquired by the Museum4Watton group was unveiled at Wayland Hall, Watton by Dawn Urry of Bennett Homes and The Mayor of Watton, Mrs Beryl Bunning in front of a gathering of invited guests.
In 2010 a skeleton, believed to be of a Roman was discovered during ground-works for the 'Signals' development by Bennett Homes and subsequently excavated by archaeologists from Northampton University.
Bennett Homes have financed the creation of a full size model of the skeleton as found and kindly given it to the Museum 4 Watton group on permanent loan. They have named him 'Hero'.
The full size model of the skeleton has gone on public display and it may be seen at Watton Antiques and Collectables Centre at Breckland Business Park on Norwich Road (IP25 6UP), along with a small display of artefacts and literature about the Museum4Watton group.
The centre is open 7 days a Week from 10.00 a.m. to 4.30 p.m. and there is no charge for admission or viewing the exhibit (although any donations to the group are always gratefully received). There is an excellent tearoom as well.
Owner of the centre, Julia Lumsden (pictured) said she was very pleased to be the first  host to Hero and wished the Museum 4 Watton group success in their plans to open a Museum in Watton. The skeleton will be at the Centre until the end of August.
In the meantime, Watton Town Council have agreed that the Museum 4 Watton group may establish a permanent museum in Wayland Hall subject to agreement on the legal formalities.
The group's volunteer coordinator, Jackie Greenbrook said that if anyone wishes to help once the museum is open she would very much like to hear from them at info@museumforwatton.org.uk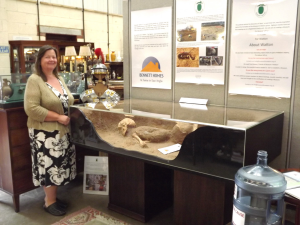 SKELETON LAUNCH HERALDS BUSY TIME FOR MUSEUM GROUP